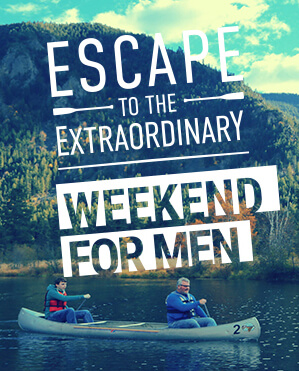 Young Life's Weekend for Men provides men an opportunity for fun and adventure as well as rest, renewal and discovery.
Those who know go.
If you've been before you know how amazing a weekend at RockRidge Canyon can be. The wide open spaces, the burble of your kayak paddle as it cuts through the lake, challenging your personal self confidence on the Tower of Terror, the thrill of the ZipLine down the mountainside and all the way across the lake, mountain biking. There is more to do than a few days will allow but you'll make time to relax and hangout. Sip a fresh pressed coffee with friends while taking in the view. The architecture. The Pinnacle. And then there is the eating. Plenty of it. No shortage of good food and good fun. It's always hard to leave. But you'll leave refreshed. And so glad you made the time.
This year make a point of sharing that experience. Invite your son, your nephew, your neighbour, brothers, pastor, teacher… you get the picture. A shared experience is a lasting experience.
Your guests will be treated to fabulous food and amazing facilities. And it's a Young Life event so there's guaranteed to be some laughs, great music and some optional seminars hosted by guys who have "been there".
Get your crew together and join us October 16-18, 2020 for a great weekend.