Fall Crew and Stay & Study 2021
WORK. GROW. PLAY.
A life lived with purpose
There are times in life to stop, reflect on our past, evaluate our purpose and map out our future. Moving into and through post-secondary education is one of those perfect times. Living at and serving at RockRidge Canyon might be the right choice for you right now. 
First and foremost, our Fall Crew and Stay and Study Students have a growing faith in Christ. You will have the ability and opportunity to serve with excellence and have a desire to be challenged and grow in your relationship with Christ. 
You'll live in a rural environment, surrounded by other people like yourself who really want their life to count for something. We think you'll come away from your experiences in this community better equipped to make choices about your future plans, education and career.
Fall Crew vs Stay and Study
Two tracks for Fall 2021 
Fall Crew are short term full time volunteer positions with a monthly stipend, available to college age adults.
Stay & Study are college/university students taking online classes who also serve as volunteers on site.
For The Greater Good
Together you form one community, sharing your skills, life and faith, and your service plays a vital role as we host guests during our rental season, an essential aspect of what makes the summer youth season possible.  
A Growing Community
As a community, you will enjoy
Eating together

Serving, Growing and Playing together

Fun weekly events

Exploring the property and local area together 

Use of indoor and outdoor recreation equipment (fitness room, bikes, canoes, SUP's etc)
Spiritual Growth
Weekly Bible Study

Morning Devotionals with property staff

Personal 1 on 1 check-ins with Coordinator/RA
Video: GOOD LIFE PROJECT | PRODUCED BY ALKETA WOLLF | STAY & STUDY

Stay & Study
This is an awesome opportunity to live at RockRidge Canyon this Fall, while taking your online university and college courses. Join other college students as you live in Wolfe Creek Lodge, study, volunteer, and enjoy the RockRidge Canyon community throughout this beautiful season. During the week you will have ample time to devote yourself to your online classes and studies. When we have a weekend group we are looking for 15-20 hours to help us serve our guest groups.
Dates & Cost
Arrival: September 6, 2021
Departure: Friday December 17, 2021 (In or around that date, depending on final exams)
Program fee: $400.
Education requirement: Enrolled as of September 2021 in a ¾ to full time university or college program, taking online courses.
Accommodation: Lower Wolfe Creek Lodge
Room and Board: Covered in lieu of volunteer hours (15-20 hours of work on weekends). Shared accommodations. The program includes accommodation and most meals. Self serve breakfast. Lunch and Dinner provided. In December you will be responsible for cooking your own meals. Access to a kitchen is provided. Study spaces with wifi provided.
Positions: Food Services (Dish Pits, Dining Hall Servers).
Number of Fall Stay & Study opportunities: For your best experience, positions are limited to 10 students, max.
Core Competency and Eligibility Requirements
Growing relationship with Christ
Community focused
Developing Study Habits
Servant attitude
Application: Complete all questions. 1 reference required.

Fall Crew
The Fall Crew lives and serves together, building real life vocational skills within the invigorating RockRidge Canyon community.
Fall Work Crew is a volunteer position with a $1000/month stipend, room & board is included. Work will be roughly 40 hours a week which may include weekends, in Guest Services, Food Services and housekeeping and any other department, depending on need.
Dates
Arrival: Starts September 6, 2021. Some late arrivals accepted.
Departure: November 30, 2021. (

This term may be shortened if guest groups are not booked and volunteer hours aren't required).
Room & Board + Volunteer Stipend: Room & board is included, with $1000/month volunteer stipend in lieu of hours served.
Room and Board: The program includes shared accommodations in Nicola Dorm Lodge, including Club 56 as your community club room, plus most meals. Self serve breakfast. Lunch and Dinner provided.
Positions: Food Services and Guest Keeping (Guest Keeping = Focus on Housekeeping with some Guest Services).
Skill Building
Food Service experience

Hospitality experience

Guest Services experience
Number of Fall Crew opportunities: 8 total (2 Food Service, 6 Guest Keepers)
Core Competency and Eligibility Requirements
Growing relationship with Christ

Community focused

Team player

Servant attitude

Flexibility
You must have graduated from high school. Grade 12 education or higher. Open to persons of college age.
Skills: What are your special skills & life/work experience? Let us know in your application!
Application: Questions & 1 reference required. Apply soon!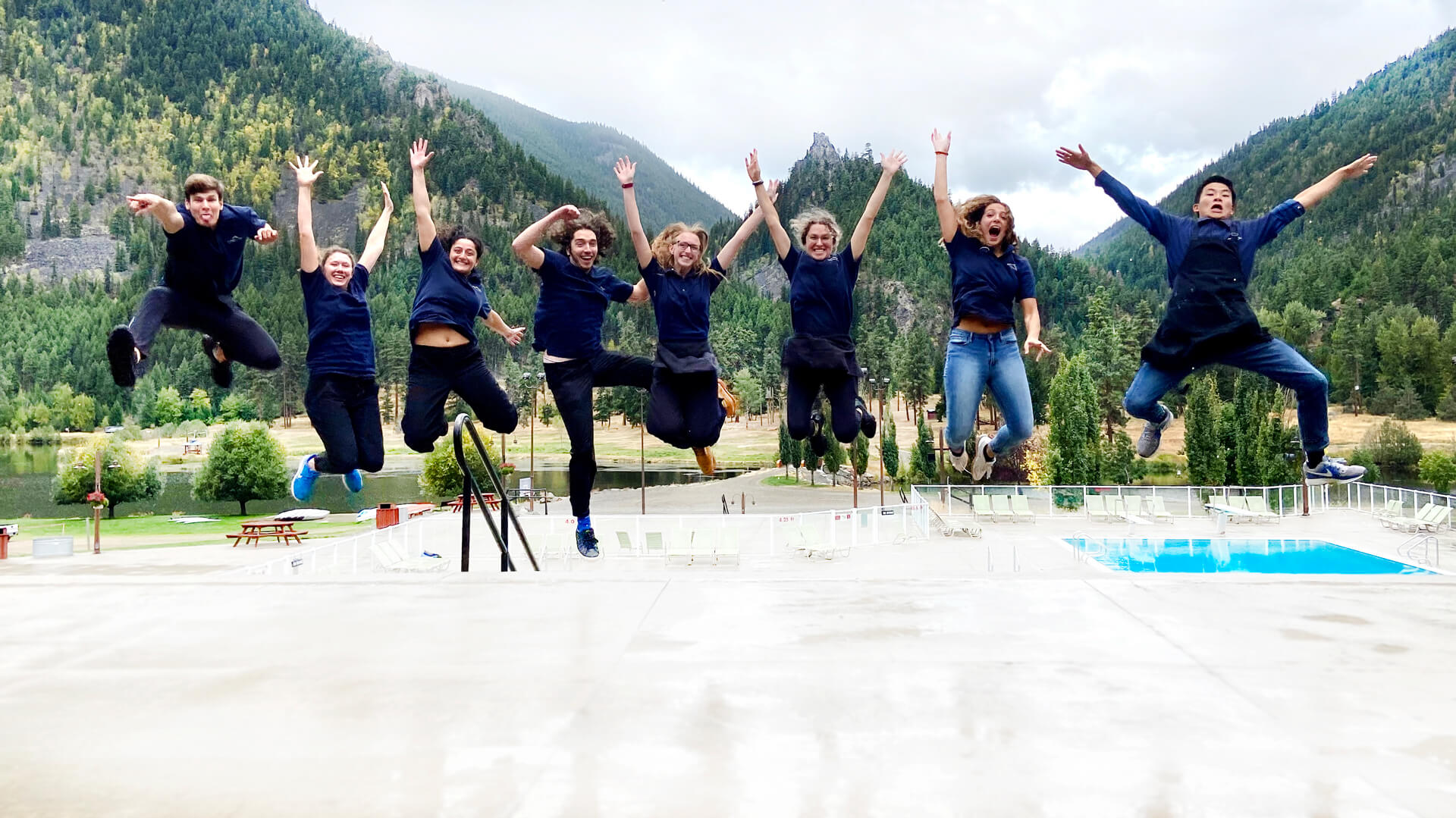 Watch: Alketa's Good Life Project
Stay & Study, Winter 2021
Watch: Brianna's Stay and Study experience
Start Date
Both Programs: September 6, 2021