Serving at Young Life Camps
Join Work Staff 2020
RockRidge Canyon, Princeton BC
As you will have heard, youth overnight camping has been cancelled within BC this summer. BUT, we've been looking at alternative ways that RockRidge Canyon can be utilized this summer. Here's the good news…
WORK STAFF required during Family Retreats
One way we can serve and use God's incredible property is to host weekend family retreats in August. We'll be able to provide a place for families to spend time together AND enable our staff and volunteers to stay engaged in the mission of Young Life – to reach out, serve and strengthen families, in the midst of a strange and difficult time in our world. It's a win-win.  
Five Family Retreat weekends are a GO! Families will stay together, eat together and play together on the property. We will be following government COVID-19 protocols of social distancing, increased cleaning, and guest screening. 
Join us
We are super excited this opportunity has opened up! We are hoping you will be interested and available to serve with us – because we can't do this on our own! We're going to need your help to make this happen. You may be on government support,  working a part time job or working as a leader in your area, so we want to respect that you may have made other plans. However, if you are available to come and help, we will do our very best to have a summer staff type experience, with fun events planned on days off and spiritual and community building times.
Roles – Just 12 spots remain
Boat Driver
Lifeguards
Dining Room
Food Services
Housekeeping
Details 
Start

date July 19

End

date August 31 OR September 7

We will need approximately 35 volunteers to adequately clean, sanitize, serve food, and provide limited recreation options.

Some positions that we are looking for: lifeguards, boat drivers, housekeeping, retail, food services, grounds/maintenance, and guest services.

We will be making sure that work staff that works together stay together with no more than 5 in a dorm room. 

Work Staff will be staying in Wolfe Creek Lodge. 
Work Staff Requirements
19+ 

Canadians

Commit to the term dates (listed above)
If you had already been accepted to serve at RockRidge Canyon this summer, we're making the process easier by reusing a lot of the information. There will be no need to fill out references or complete the interview process. 
We do, however, need you to fill out a new SHORT application so that we can track staff numbers properly. 
Apply today
Go to the RockRidge Canyon Staff Portal and fill out the Family Retreats Work Staff Application.
Work Staff serve our guests in a variety of ways, like dining hall servers, grounds crew and housekeepers.
To be eligible for Work Crew, you must turn college age in the calendar year you serve.
It's not often in life that we get to evaluate our purpose, map out our future and reflect on our past. As a volunteer on Work Staff at RockRidge Canyon camp, you'll have the chance to grow personally and spiritually — you'll be surrounded by other people like yourself who really want their life to count for something. We think you'll come away from your experiences at camp better equipped to make choices about your future plans, education and career.
Get signed up
We need to hear from you soon!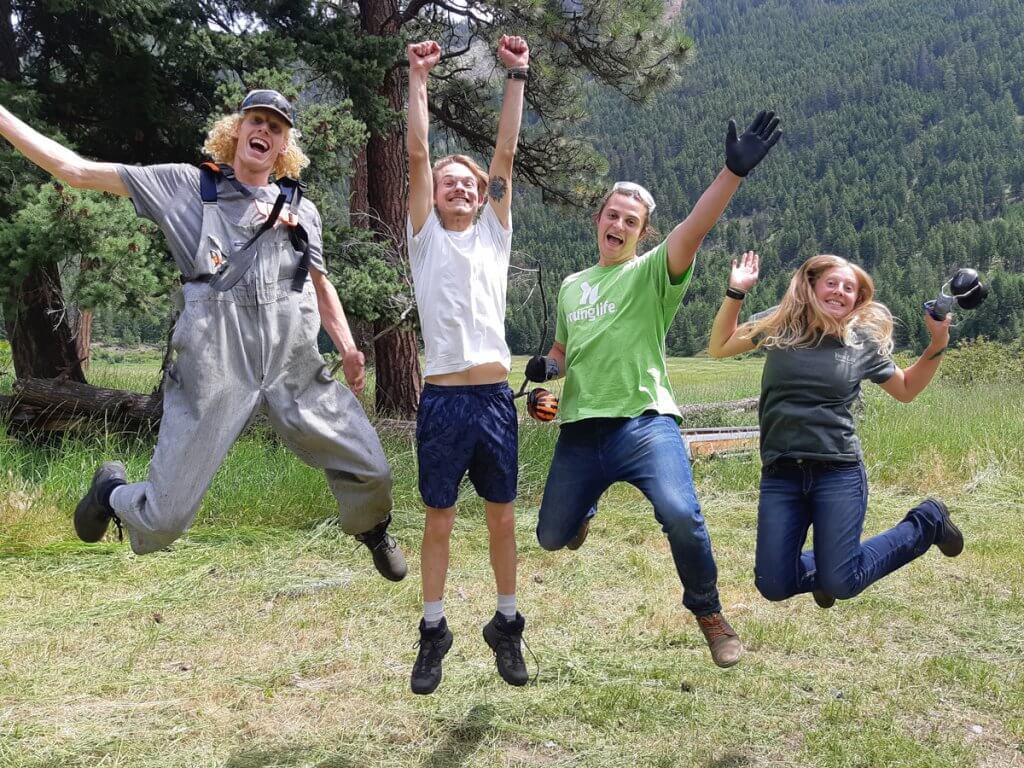 Dates
Start  July 19
End  
August 31 OR September 7
Talk to us about Fall opportunities