FAMILY RETREATS
Your 4 day Staycation Destination in British Columbia
Thank you for the overwhelming response!
The waiting list is now closed, however, we would love to host you during another visit! Click here to get notified opportunities and updates so that we can welcome you another time. You'll also get notified if additional dates open up this summer.
Hello friends,
As COVID-19 restrictions continue, Young Life of Canada has made the difficult decision to move away from a national youth camping strategy and instead Young Life areas will be hosting regional, creative, fun and adventurous camping alternatives similar to 2020.
RockRidge Canyon will not host traditional Young Life camps this summer, rather we are hosting weekend Family Retreats throughout July and August.
The Family Retreat weekend model was very successful last summer and allows us to follow all of the necessary COVID-19 protocols and cleaning designed to keep guests and staff healthy.
We're hoping to add Young Life "flavour" to your stay, with protocol friendly activities based on the BC provincial health guidelines.
The Family Vacation Destination
You've told us that getting outdoors together, staying in premium accommodations, while enjoying stress free food and fun make for special family memories and a real summer vacation. With that in mind we're looking forward to hosting your family again at RockRidge Canyon this summer!
Family Retreat Dates
Friday – Monday
July 2-5
July 9-12
July 16-19
July 23-26
July 30 – August 2
 August  6-9
August 13-16
Here To Bless Families
RockRidge Canyon sets the standard high when it comes to activities, food, accommodation and fun so you can rest assured this will be a true holiday – A summer break to remember.
Summer is prime time at RockRidge Canyon. The days are extended to include more fun and the wide blue sky is consistently filled with puffy white clouds. In the summer, RockRidge Canyon comes alive with activities on the lake, in the pool, amongst the trees and inside where it's cool.
Walk the new nature trail experience. Explore the property at your own pace on sweet Rocky Mountain mountain bike or rip down the dedicated mountain bike trails. Relax in the pool or sink your toes in beach sand. Plan a sunset trip on the party barge. Cast a line from the shores of Canoe Cove (BC fishing licence req'd). There is so much to do during this extended weekend retreat – but it's up to you. With meals included your family will enjoy this weekend at your own pace.
It's like time away at the cabin - without the cooking & cleaning!
What is there to do?
While some activities have been limited by governmental directives, there is still lots to do in our 1,500 acre playground! 
Beach Hut activities include Mountain Bikes, Paddle Boards, Kayaks, Canoes, Family Beach Volleyball. Cool off with a dip in the lake, build sand castles beside the lake, soak in the sun with your toes in the sand, read a book in the breezy shade of the Lake House. Lots of family fun can be had playing a round or two of Disc Golf (We have new discs!). Take leisurely walks along the creek, in the forest, or down to the dam – There is plenty to explore! For the adventurous, there will be guided hikes to the top of The Pinnacle mountain (Discover the amazing view!). For extra thrills, all going well, the amazing Zip Line, High Ropes Challenge Course and Tower of Terror will be open this summer.
The Nature trails have been expanded, with each kiosk illustrated and narrated. You'll learn more about the wonderfully complex creatures who make RockRidge Canyon their home.
Is this a shorter version of Young Life Family Camp? 
Nope! To meet provincial guidelines this is very much a self directed weekend, with lots to see and do. We are, however, planning some scheduled activities and surprises throughout the weekend. This format was a hit last year as it allowed guests time to really relax.
Will there be an evening program?
This family retreat will be a lot like visiting a cabin. The evenings are yours to enjoy. Some self directed activities will be available after dinner. Plan to bring your own board games and puzzles. Bring your guitar, some folding chairs. Who knows what impromptu sing along may occur around a campfire under the big starry sky. 
Golfing
Golfing is just 10 minutes away at the popular Princeton Golf Club. You'll need to make tee time reservations well in advance. Contact the Club.
Relax or Play
RockRidge Canyon is filled with plenty to do but if your goal is to sit back, soak in the sun (or shade) you are free to. It's your break. Work up an appetite over a good book or, when the mood strikes,
Take a dip in the beautiful 25 meter outdoor swimming pool
Hop on top-of-the-line mountain bikes for exploring trails
Enjoy lake includes activities such as swimming, beach volleyball, kayaks, barge lake tours.
Shoot hoops or get a game going on the all weather basketball court, ball hockey court, playing field (for soccer, football, wide-games, etc.)
RockRidge Canyon has a small playground for little ones
Challenge your family members to a round of Frisbee golf
Take a guided hike to the top of the infamous Pinnacle Mountain
There's time for shopping at the "Ridge Trading Company" (for gift items, T-shirts, jewelry, etc.)
Canyon Coffee serves up lattes, espresso and teas (cash and cards accepted)
Grab a booth and relax in Scoops Snack Bar over ice cream, smoothies, chips, pop and more. Challenge your family to share the legendary Pinnacle sundae or attempt eat it all on your own…
Paddle Canoe Cove on a standup paddle board, canoe or kayak
Walk the trails and breathe in the mountain air as eagles and osprey soar above
There will be some fun surprises during each Family Retreat!
Power Boats
In order to keep this special series of Family Retreat weekends accessible to more families the power boats are available as an option for your family.
Sign up when you register, as space is limited.
Your family experience includes
2018/2019 Axis Surf boat with driver

Toys: Spinner, tubing, wakeboards
Life jackets
Can we bring our boat?
In order to protect the lake, and for insurance reasons, guests do not bring their boats. Optional reserved Family Boating times will be available with a driver for a reasonable rate. Feel free to bring your personal life jackets. RockRidge Canyon Spinner, Caribe and Wakeboards will be available.
Can we bring our own toys?
You are welcome to bring your own bikes and pool toys.
Meals and many activities (such as Barge Lake Tour, pool use, archery and Beach Hut boats, boards and bikes) are included! Be sure to sign up and add your name to the schedules.
| | |
| --- | --- |
| Barge Lake Tour | Included |
| Pool Use | Included |
| Archery | Included |
| Beach Hut Equipment | Included |
Optional activities for additional fee: Zip Line, High Ropes & Tower, power boats.
Pricing is based on 3 parts.
Accommodation selection
Family members
Optional activities
Wolfe Creek Lodge
Hotel style room with private bathroom.
Dorm Lodge Room
Includes bedding and private bathroom
RV Site
with power & water hookups (No sani on site)
Power Boats
Includes driver, fuel and gear!
Zip Pass
Soar across the lake!
Adventure Pack
Tower of Terror & High Ropes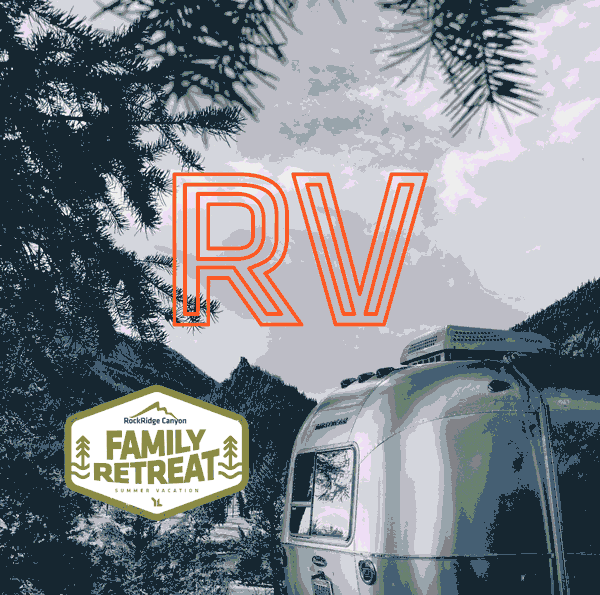 Guest Comments
"The most fun-filled 5 days our family has ever had! Many thanks to staff and other families that attended. We'll be back."
"Our family had an incredible time at RockRidge Canyon, it was a definite highlight of our summer. We have already booked it for this upcoming summer."
"Young Life's Family Camp was the highlight of our summer. It exceeded our every expectation. The facilities, activities, fellowship, and food were all top notch. All of us had a great time and can't wait to return."
"We had a fantastic time at Family Camp. What a fun and friendly place to connect! The staff, food and accommodations were excellent. We were first time campers and this will certainly not be our last time here."