Through your gifts we are able to sustain an effective camping ministry.
Who we are and why
At RockRidge Canyon, kids get away from the pressures of everyday life, have fun with friends and their Young Life leaders, and hear the message of God's love in terms they can understand.
As a Young Life of Canada property, a unique aspect of our camping program is that teens attend with their leader, one they've come to know throughout the school year, and return home with that same leader. The bonds formed go beyond a week at camp – many last a lifetime. Our deepest hope is that they last an eternity!
Through your gifts we are able to sustain an effective camping ministry.
Responding to COVID-19
Not all news is positive these days, but we can encourage you that our staff have remained thankful through this storm and have done everything possible to clean, maintain and upgrade this beautiful facility so that we can bless our guests in the coming years. We have also found ways to open our own small retreats, including the successful summer and Thanksgiving Family Retreats series. On another positive note, we have been blessed by our Fall Work Staff and Stay & Study students. For Winter 2021 we have a full complement of university students who live on site, study full-time and volunteer as required while they take their winter/spring semester courses online.
While property staff are working to maintain the property, further travel restrictions have curtailed revenue opportunities, such as community Christmas dinners, the New Year's Family Retreat and other rental and hosting opportunities.
We know you love and care about this facility and we continue to covet your support and your prayers. We are trusting that God has a purpose and a plan through this challenging season.
The challenge
Since March 2020, all of our regular seasonal rental groups cancelled or moved their bookings to next year. Our Summer Camp program was cancelled, due to overnight youth camping not being permitted, and the same has happened with Young Life's New Years camp and our winter rental groups. Our fiscal year ended September 30th and through government assistance and many supportive donors we have been able to cover expenses and keep our staff working full time, however we anticipate significant losses again this year for 2020-2021.
With uncertainty around BC Public Heath orders and overnight teen camping, Young Life Canada had to make the hard decision to move summer camps to the local and regional level. This means teens will be enjoying opportunities within or near their home towns, hosted by their creative and caring local leaders. For RockRidge Canyon, we are hosting school field trips in May and June and Family Retreats through July and August. We are thankful to all who have graciously supported us through this time of many changes and challenges.
We know we are part of a greater community that loves this place and have been blessed in the past by being a guest or volunteer, so, we are asking for your show of empathy towards this Young Life ministry.
If you have the means, could you give $25 or $50? For those who have greater financial means, would you consider $2,000 or even a $20,000 gift at this time?
Here's how you can donate: Enter the online donation portal. In the comments section, simply write the phrase "I'm with RRC".
Our staff will see your show of support and know, without a doubt, that you care. In turn, we will continue to do everything humanly possible to bless our guests and volunteers, and care for this property. It's a Win Win.
Operations
Yes, this is important! Your support keeps things running.
Pre-Authorized Monthly Donation
You may donate one time or set up a Pre-Authorized Monthly Donation (PAMD) for any category of donation.
A PAMD is the most efficient and cost effective way to make regular donations to Young Life of Canada. There is no need to worry about forgetting to make a monthly donation and no need to send in cheques or call in credit card donations each month. Bonus – it saves money in administration costs!
Thank you for supporting RockRidge Canyon!
One time Wish List gifts
One time Wish List gifts
While our key focus has been maintaining operations, we are still looking to the future when we can host Young Life teens again. If your heart is to support specific projects please check out the WISH LIST link. When donating please be sure to type in what you would like the gift to be directed towards, like "Rope Swing" in the message field
Canadian and US dollars accepted
Gifts in Canadian dollars will be issued Canadian receipts, and US dollar gifts will be issued US receipts.  If you are donating in U.S. funds, please use the US Donations Page. You will be taken to a page that prompts you to enter your personal and donation information, as well as the gift designation.
Thank you!
RockRidge Canyon is owned/operated by Young Life of Canada, which is a Canadian Registered Charity.
Receipts
All donations are tax deductible and tax receipts will be issued. (Online donations are immediately receipted by email, while paper tax receipts are issued for other donation methods).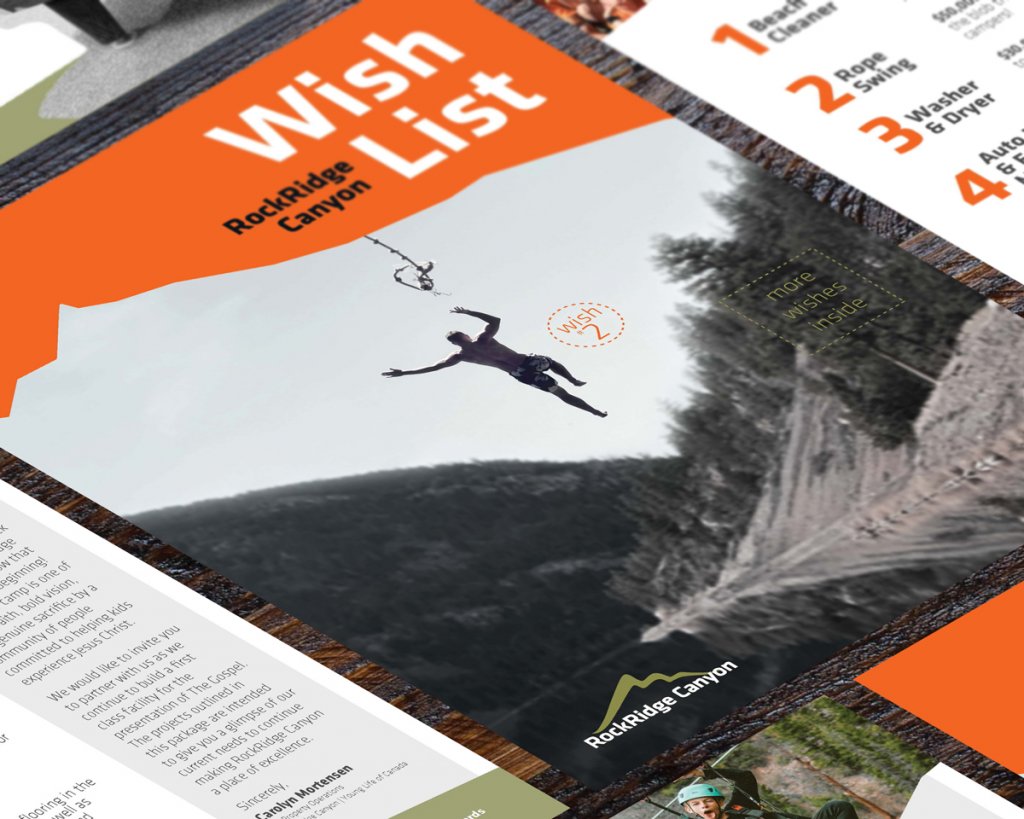 Because of what Young Life meant to me as a student, I want to include Young Life in my financial planning.

North Shore, Vancouver, BC
If you would like to donate by cheque, please write "RockRidge Canyon" on the memo line and mail to:
Young Life Canada
120, 9440-202nd St.,
Langley, BC V1M 4A6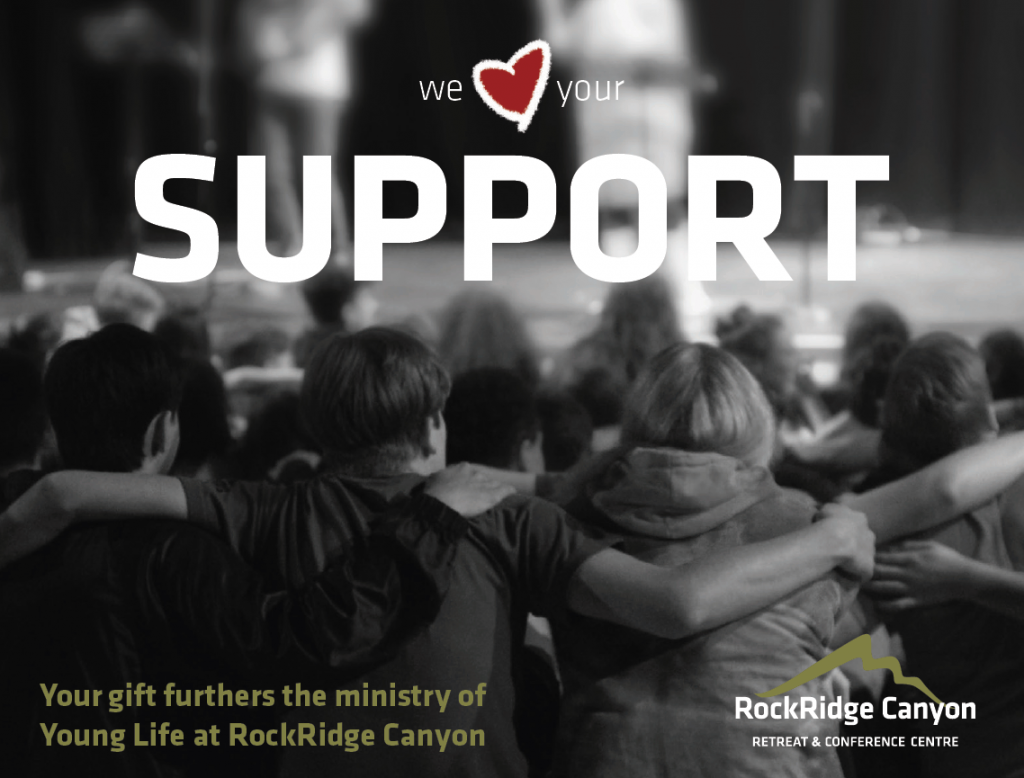 Frequently Asked Financial Questions
Creative Giving
Creative giving helps Young Life care for teenagers. A properly thought-out gift strategy can support Young Life, while reducing present taxes and potentially minimizing future taxes on one's estate. There are a number of ways to take advantage of the many creative methods of charitable gifting allowed by our federal tax system. In the Young Life community, we have a number of trained professionals who can assist in developing a well thought-out estate plan. These professionals are faithful friends who themselves have a history of supporting the Young Life ministry and want to make their skills available to our Young Life community. In doing so Young Life hopes to see its ministry supported not only today but in the years to come through creative planned giving.
Creative options for giving to Young Life
Young Life in your will.
Giving a Life Insurance Policy to Young Life and receiving a tax receipt for the full cash surrender value of the policy, or making Young Life the beneficiary of a policy.
Purchasing a New Life Insurance Policy with Young Life as the beneficiary where you make the donation to Young Life to cover the premium in return for a tax receipt.
Gifting publicly traded shares such as Trust Units, Mutual Funds or Stock to Young Life and thereby avoiding ANY capital gains while still receiving a tax receipt for the full fair market value of the equity. Young Life then sells the equity at market value with a reduced brokerage fee.
Creating a Charitable Annuity Trust where the interest flows tax-free to Young Life and may be utilized immediately by the ministry.
By your financial planning, you can minimize your taxes and help us care for kids and thereby impact their lives for a lifetime! Want to know more? Please contact your own financial planner or Mike Manning for more details concerning creative giving options –mmanning@younglife.ca.
Planned Giving
What is planned giving?
Simply put, planned giving is developing a creative plan of giving through a variety of means. These options include cash, securities (shares of a company, Trust Units or Mutual funds), wills, property, annuities, insurance and others. Sometimes the gifts are of immediate benefit to Young Life while at other times the benefits are deferred for a number of years. In either case, both the donor and Young Life benefit from this thoughtful arrangement of one's financial affairs. This method of giving is not complicated but does require planning. Through planned giving, you will help to ensure that the ministry of Young Life will continue for many years to come.
What people are saying:
My wife and I would like to help Young Life now by our present gifts and also ensure the ministry to kids continues after our lifetime. That is why we are putting Young Life in our will.
We originally took out this Insurance policy to cover our house mortgage but now that it is paid off, we don't need the insurance. How wonderful that we can give it to Young Life and get a tax receipt for the cash surrender value! That will help us tremendously at tax time.
Because of what Young Life meant to me as a student, I want to include Young Life in my financial planning.

North Shore, Vancouver, BC
I am thrilled to know that I can now make a donation of appreciated securities to Young Life without incurring any capital gains tax on that donation and still receive a tax receipt for the full present day value of the stock
Canada & USA
Young Life is a member of the Canadian Council of Christian Charities. All donations are tax deductible. Young Life of Canada is a registered charity in the United States and is therefore able to issue a US tax receipt for our American supporters. This page is designed to provide general information about planned giving. If legal advice or other expert assistance is required, you should seek the services of a competent professional.
We can help you get started
Consider being a part of the growing number of Young Life supporters who are planning their giving in a thoughtful and creative manner. Please call your own financial planner, local Young Life office or Mike Manning – mmanning@younglife.ca.